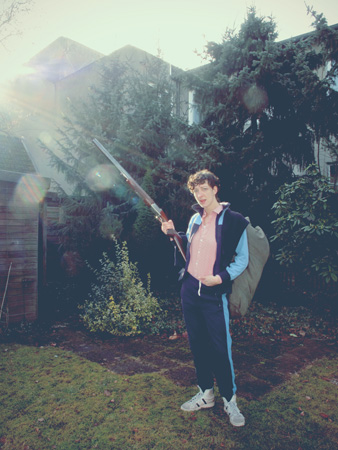 Me with rifle, 2012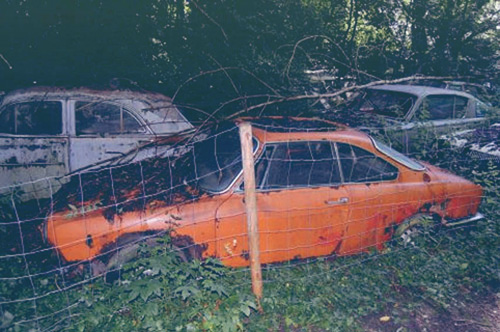 My first car, 2012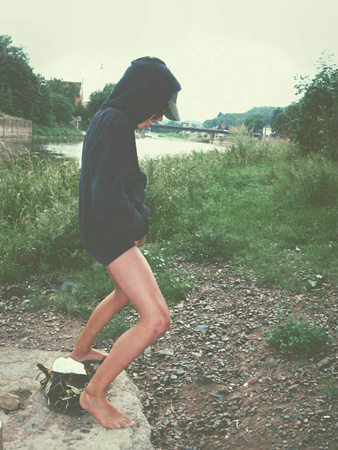 Stepdaughter peeing, 2011

'Mori, stop!', my brother roars.
Actually, our dog didn't listen at all. Particularly not when cars or bicycles drove past. Then he ran beside them, growled and woofed wildly. A play. A great, thrilling play.
'Now come here, you stupid beast!' Markus blasts and jumps on him. In vain.
When my brother was still very young, they often slept together in one basket although the dog was constantly trying to hump him from behind. He has always fought back. His little body all writhed against him, bristled. Sometimes I helped. Swoosh, the leash splits through the air and hits the unsuspecting ass. Howling, he leaps aside and continues to bark. My heart is pounding.
'Over there,' I whisper into my brother's ear, pointing at two small dots at the end of the road.
People on wheels that move quickly in our direction. The grass swings at the trackside in the windblast of the thundering train. My brother's eyebrows quiver full of promise, I nod pointing at the corner of a house. Drag the dog along, pressing my index finger against my lips. My sister doesn't understand. She stands there, watching us hide, with her arms hanging. We listen. Ears to the ground. Humming. We are lurking. In ambush. Humming.
'Attack!' we yell simultaneously, storm out of our hideout and the yapping dog hounds the fleeing bikes. Snapping, barking, howling. We cheer him on, fueling his rage.
'Get him, Mori, Grab!' I still shout as the back wheel lurches and the gravel gives way. Blood and tears. Bawling. What the hell were we thinking? We would be pressed charges. This will be reported to your parents!
'This dog has never bitten,' we scream, besides it was only a game and anyway it wouldn't be our fault if he falls off the bike. Too bad! Later on we were subjects to a real interrogation by my father, which he recorded on tape.
Because of the possible charges, he said. Even my little sister was lying it through. We didn't do anything; the dog was just chasing the bikes, barking. As he always does. As my father should know.
Until this day, he doesn't know what really happened back then.


Dog barking, 2012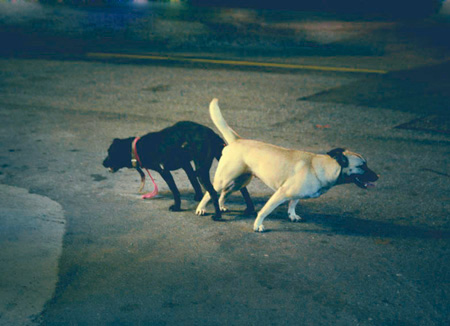 Dogs hanging, 2012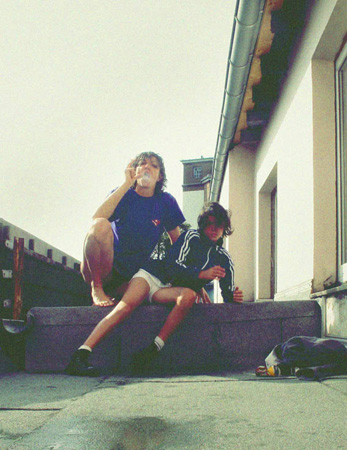 Stepdaughter and me, 2012

She is not quite one of these normal girls as I was once. Ever since I've known Marie she has never worn a skirt.
I like her. Her tenacity, her vivacious nature.
During our first blow-up she hit my crotch with her fist and was shocked when I struck back. It was the only time I saw her crying.
'Daddy, will you please do the willy dance now?' she cries. 'Only once. Please, Dad.'
I have made the mistake to tell her about how funny it looks when her father's dick flies through the air as if a fire cracker had gone off inside it. It waves around, in the rhythm of the swinging, jerking hips. Dancing. We spoke of breasts; of body parts that flap around uncontrollably and she did not want to believe that Jakob's penis could also flap like that. She doesn't desist.
Never.
Once she gets something in her head, it's hard to talk her back out of it. Fighting.
So he gives into her, pulls down his trousers and flaps around his cock. Bang, smack, giggling. We are roaring with laughter, slapping our thighs, moaning.
'Stop it, please, stop,' I beg, throwing myself back, burying my face in the cushions. Tears of laughter wet the sheets.

Willy dance, 2012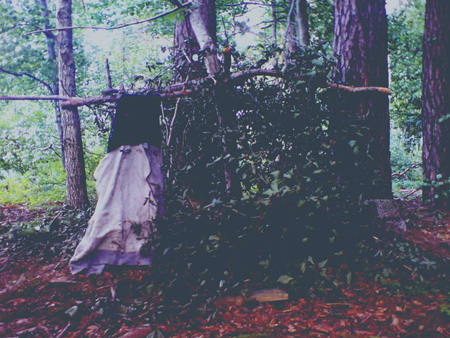 Hide out, 2012
Fabian Fröhlich on my exhibition at "Warte für Kunst", Kassel 2012
Was ist ein "ganz normales Mädchen"? Eines, das Rosa und Lila liebt, und Puppen und Pferde? Und was wäre dann nicht "normal" für ein Mädchen oder eine Frau? Kann auch die Faszination für Autos und Schusswaffen weiblich sein? Solche Fragen sind vielleicht nicht neu, aber auch nach Jahrzehnten der Diskussion um Sex und Gender, um biologisches und soziales Geschlecht, immer noch zeitgemäß - jedenfalls dann, wenn sie mit so viel Witz und Lässigkeit formuliert werden wie in Lotte Reimanns Ausstellung "Colts and Fillies" in der Warte für Kunst.
Die Installation ist aufgebaut wie ein Buch: Kurzgeschichten umfließen an die Wand tapezierte Fotografien. Den Ausstellungstitel könnte man mit "Hengst- und Stutfohlen" übersetzen, allerdings klänge das nicht nur ziemlich sperrig, es ließe auch manche Assoziation unter den Tisch fallen. Ein Colt kann eben auch ein Revolver sein - oder schlicht: eine Knarre. Ein Gewehr inszeniert Reimann in ihrem Selbstporträt "Me with Rifle" so deutlich als traditionelles Männlichkeitssymbol, dass man sich gar nicht entscheiden mag, ob man die Pose eher als ironisches Spiel mit Klischees oder selbstbewusste Aneignung lesen soll.
Die in Amsterdam und Bielefeld lebende Künstlerin arbeitet sowohl in ihren Fotos als auch in ihren Texten mit der eigenen Biografie: Selbstporträts und Familienbilder mischen sich mit Fundstücken aus dem Internet, eigene und fremde Erinnerungen werden literarisch weitergesponnen. Aber was tatsächlich biografisch und was fiktiv ist, bleibt ungewiss. So fragt die Ausstellung nicht nur nach Geschlechterrollen, sondern auch nach dem Verhältnis von Fotografie, Literatur und Realität.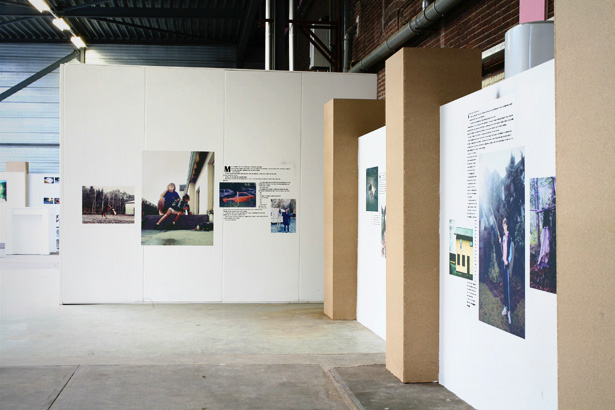 Installation view at GRID in Amsterdam, 2012