Jan van Eyck Open Studios 2020 - Super Confident, Always Worried
by Domeniek Ruyters for Metropolis M

[…] A highlight, a few aisles further on, is the film by L [10], who collects photos from the internet, and for the film visited a German amateur photographer who follows high-voltage pylons from pole to pole and takes photographs. He has made entire collections of them. Another hobby of his is photographing his female friends in the cow manure. He is surprised that people find it sexy. The film tells his story by means of his photo collections, which can be immediately published from my opinion. Maybe L should talk to R, the publisher of ROMA. […]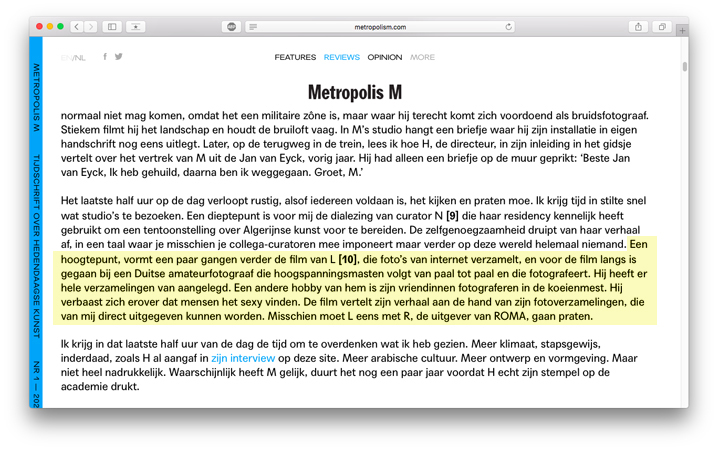 'Hinterland - a film' at Open Studios, Van Eyck Academy, Maastricht, 2020
Critic's Guide: Rotterdam
by Laurie Cluitmans for Frieze magazine

'Temptation of Dr. De Clérambault', Lotte Reimann's exhibition at non-profit A Tale of a Tub, was commissioned by the C.o.C.A. (Collectors of Contemporary Art) award, which she won last year. Displayed in the atmospheric basement of the former bathhouse of the Justus van Effen-complex – a revolutionary social housing project built in 1922 – Reimann's photographs and documentary clippings present a central historic character, Dr. De Clérambault, a French pathological psychiatrist who obsessively documented the traditional clothing of Moroccan women. A small selection drawn from Clérambault's archive reveals an ever expanding associative gathering of images: from screengrabs of advertisements for burqas on ali-express.com, to camouflage clothing, vehicles, wearable technology and fragments of barely covered female bodies. The images of concealment bear the markings of different forms of control and power. Clérambault's fetishist gaze is here equated with a more general voyeurism of and in society. Here in this damp basement, one becomes complicit in the gaze on the other.

March 2017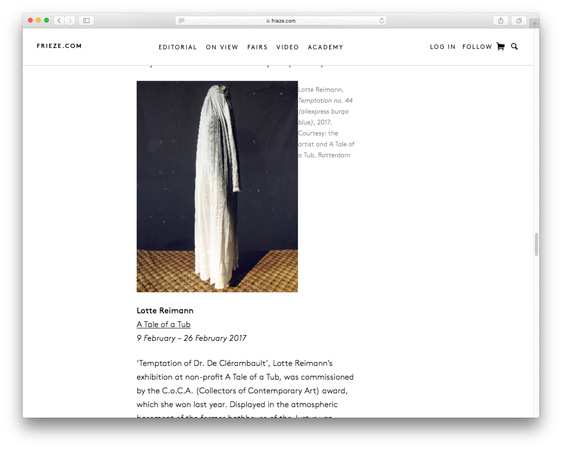 "Temptation or Dr. de Clérambault" at A Tale of a Tub, Rotterdam 
Mar'17
Nathalie Hartjes introducing "Temptation or Dr. de Clérambault"
C.o.C.A. Foundation Art Prize

In "Temptation or Dr. de Clérambault" Reimann explores power structures and taboos through a collection of found images that she interweaves with fictionalized diary entries from various individuals. The French pathological psychiatrist Gaëtan Gatian de Clérambault is the anchor of a narrative that starts with the arrest of an early 20th-century silk fetishist; leads past the French colonial era to the recent attacks in Paris; then for a moment lands on online meeting platforms for hidden fetish communities; and also draws Reimann's own research into this parallel world. Conventions and strategies of concealment and disclosure form the red thread in a group of images that contrasts the archive de Clérambault – as an amateur anthropologist he obsessively documented the traditional full body garments of Moroccan women during a period of rehabilitation – with contemporary and historical images snatched from the internet; the iconic image of a patient with elefantiasis; recommended burqua's on vending site ali-express; wearable technology; or a camouflaged armored vehicle.
Fabric plays a prominent role in this series of works. The seductiveness of various textiles, specific tactile qualities like that of silk and velvet, or formal properties, the weight of a fold, or how a hush of wind is caught between pleats are captured from a monitor by Reimanns camera. The images are blown up and printed on Hahnemühle or glossy paper and silk which provides them with a new quality; blips of light and pixelated distortion create a new skin, highly saturated due to the materials. The effect is that of an optical illusion challenging the viewer of the veracity of what they see.
This cloaking mechanism that occurs is both strategy and subject of the images. The eroticism of not seeing and not knowing, Dr. de Clérambault´s sexualizing obsession, is veiled by the pretense of science. The existing power relations between researcher and subject, an almost inevitable dehumanization of the object of research, come to the fore. A patient with Elephantiasis is covered with a piece of cloth, that seems only to have been offered only at the very last moment, a moment of compassion perhaps- or maybe just to reduce persistent wailing. Her posture, arms clamped in front of her breasts, give away her tension and distress.
Reimann's images challenge the orientalism which the Western world is yet unable to release completely, simultaneously not shying away to touch upon prevailing privileges and prejudice, like when the narrator incurs a foot injury this collapses with a terrorist attack a year earlier. New forms of camouflage and masked resistance works their way into the series and negates the idea of veiled powerlessness. The latter, according to conventions a female affair, actually seems to offer a way into a reversal of norms. Deviance becomes an opportunity for self-determination. Equally
all of the images in the series possess the ability to escape to their obvious definition.
Temptation or Dr. de Clérambault is driven by a fascination with the invisible, or better put that which is hidden from sight, where the question of who has agency over 'the image' is the eye of a storm of thoughts, questions and doubts. Fact and fiction fuse in the hands of Reimann and turn into a quasi-biographical document that explores changing social and political norms around physicality, sexuality and ownership.

March 2017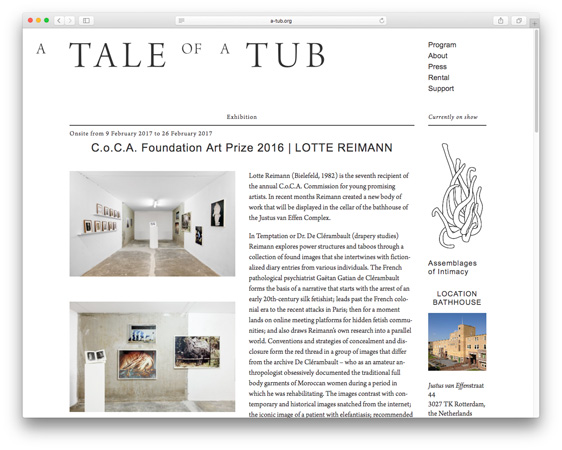 "Temptation or Dr. de Clérambault" at A Tale of a Tub, Rotterdam
Mar'17
Fast cars, sex and violence, or how I've been inspired by "Crash"

I guess in my personal lexicon of meaning the car is least of all a means of transportation.
I have always been much more attracted by the strength that a car embodies, its speed and danger, the power of these machines. Metal, steel, glass, leather, plastic, oil, and dirt – all agglomerated into one piece, which encloses me – blasting with tremendous speed through the landscape, is hugely exciting, arousing.
Equally fascinating are the violent traces remaining of a collision on organic and inorganic material. Scars and bruises, blood, chipped varnish and sharp bumps, broken glass, splinters. Its bursting force, its perfection and fragility speak of transience and moment, of life and death.
Those are the associations that resonate with me when I look at a car; when the rev of a powerful engine makes my ass cheeks vibrate.

When JG Ballard wrote his novel "Crash" in the early 1970s, he ventured a brave, crazy and yet "true" look into the future of the fusion of man and machine. The unification of the human body and automobile in a "lethal-fertile sex / traffic accident" is, I think, a symbol of what we now actually experience: test-tube babies, online sex via Skype telephony, prosthetic legged Paralympics sprinters that run faster than an ordinary runner and virtual network exhibitionists, which reflect their genitals in shiny surfaces without even catching a glimpse of the reaction of their "observers" (see Reflections - an unfinished collection, 2014).

In my artwork I explore different ways of modern self-representations. Starting with the classic autobiographical self-portrait in a family context that got stirred up by fictional elements and photographic found footage, I arrived at investigations of self-portrayal of others who identify and individualize themselves through "unusual" sexual inclinations and its photographic representation on the Internet.
Thereby the use of the camera, respectively the photographic image, as a vehicle for and part of the fetish-identification is essential.
Akin to the fusion in Ballard's novel, man and technology are unified. However, while Ballard generates a chain of associations of body, car, lethal sexual intercourse ("Geschlechts-verkehrsunfall"), end and a new beginning in one act, in my case it would rather sound like this: camera-extended body, virtual-disembodied sexuality, anonymous and individual at once.

In summary, I would say I was reached and influenced by "Crash" at an incredible number of levels: in my choices of subject, narrative style and genre, as well as on a meta-level of meaning and interpretation. I simply am a true fan, putting my hands together!

Lotte Reimann
Amsterdam, 30 December 2014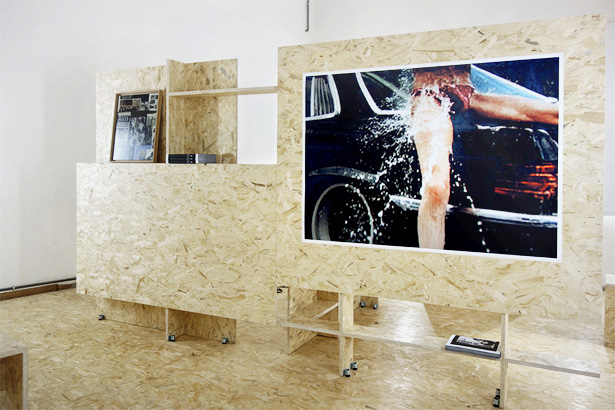 "Half-nude on car sputtering" from "Jaunt" as a 104 x 144 cm special edition on the occasion of "ExposerPublier", shown accompanied by a literal copy of J.G. Ballard's "Crash", Paris (FR), Feb'15
Blue jeans, Burning rubber
Sonia de Jager on my solo at Leslie, Berlin (DE)
Blue jeans, Burning rubber (2016) combines two previously existing "fabricated non­fiction" works by Lotte Reimann, presented alongside each other so as to expose the compatibility and symbiosis in their subjects and objects. Bold yet subtle, Reimann's images navigate between the light and the loaded, resulting in a condensed dose of e ros and p syche. Inspired by the likes of JG Ballard, John Fante, David Cronenberg and Ulrich Seidl; Reimann creates two parallel narratives displayed as coercive materializations of worlds generally unknown to 'passer­by life,' perhaps even forbidden. Bodies displayed at their prime: frozen in a moment of ecstasy. Our most sensual of natures presented as motion pictures which, in fact, do not move. Despite the heavy, alluring reality of sex, Reimann manages to elevate carnality to the level of jaunty persuasion. These images are not peepholes into the private lives of fetishist individuals but rather flauntful displays of the pleasures of skin against leather, against soaked denim, against asphalt and under the sun. If ever addressing skin on skin at all.
Blue jeans, Burning rubber treats subjects such pleasure, desire and pride in a manner neither passionately glorifying nor discriminatingly scientific. It presents these human drives as belonging to the realm of personal freedom. While J aunt presents the more exhibitionist side of the story, B is Morgen im Nassen reveals the innocent adrenaline driving these impulses. This non­judgemental approach to her subjects is achieved by Reimann's characteristic treatment of appropriated material: she tells her own stories through the partial use of the images of others. In doing so, a union of identities is achieved, in such a way that it is both honest, realistic and highly fictional at the same time.
There are different modes at work in the ways things are presented. Firstly, full­on photography is brought forth as a medium powerful, necessary and ultimately immeasurably relevant today. Subjects such as "the portrait," the (auto­)biography, and identity overall are explained in a playful, line­blurring manner. By arresting fleeting images from the hidden corners of the internet, Reimann creates narratives which take on an authentic documentary air while remaining fictive. The resulting captivating imagery creates thus an alluring entrance into these worlds which most often get categorized as taboo, abnormal and inadmissible. Last but not least, the very origin of Reimann's images and her methods inspire questions on some of the most contemporary tropes of all: privacy and identity, ownership and originality, the artist and the amateur, as they develop in the age of new media. Ultimately, Lotte Reimann's work provocatively demonstrates the capacities of photographic storytelling, showing more overlap than exclusion with media such as film or literature.


March 2016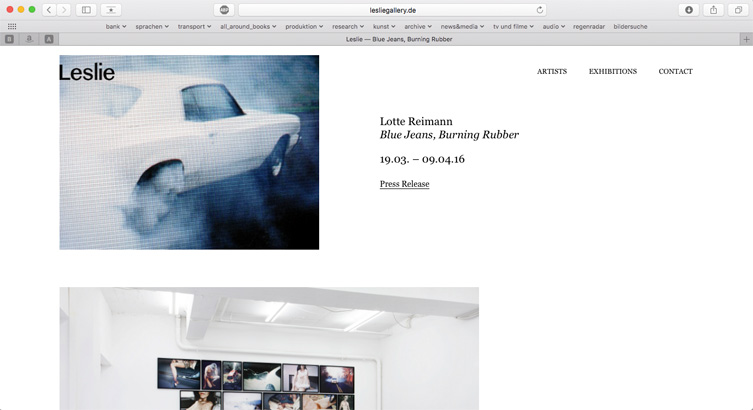 "Bis morgen im Nassen" at Leslie, Berlin (DE)
Mar'16
Brad Feuerhelm reviewing Jaunt on american suburb X

The sun stretched lithely over here shoulder blades. She was bent over, exhausted, too much diesel and the smell of pine overwhelmed her. This intoxication was mixed with the scent of her own sex and the awkward feel of his seminal fluid running down her inner leg. He cackled nearby rubbing his swollen member in post-coital bliss. "Baby, Let's ride".

The journey itself was a means to an end. It was never intentional, the duo had created the membrane of their meeting based on the physicality of the auto and their drive to intertwine their bodies through their primary, yet graceless couplings via a chance meeting in an etherized world of electronic falsettos and cum-soaked chat rooms. It was an odd charter of ages, languages, and desires that porously found it's reasoning behind the wheel and behind the interlocution of breathless speed-induced somnambulism. There was a recollection from her parted lips as the flicker of the pines mixed past her eyes that she felt as though she could hear an old film projector firing up from between her pale thighs. Nervously glued to the wheel, focused in his shades, the man who could be her father, but consisted of her lover's body thought this over… the dull throbbing between his temples, a gesture reminding him of the previous night's whisky-induced fervor, shed light on this stampeding thought. "It will end soon enough, all of this will end soon enough," his last breath wheezed out, the tumors growing in his lungs with every cough.

This was a slippery, winding, and deathly slope towards death, fought tooth and nail against the current escape for which he found himself and his temporary young lover. "Christ, I could be your father"…the throb echoing through the smoke and silence, blinded by a temporary pain…the wheel jerked suddenly, his cough hardened in his chest at the same moment, the automobile careened against the guardrail. Neither participant in the masquerade of their temporary life together letting out so much as a shriek as the car passed lanes into the cold shadow of an 18 wheeled gargantuan.

Lotte Reimann's Jaunt on Art Paper Editions is a post-traumatic lover's discourse culled from the corners of the Internet. Brilliantly extracted from a series of vernacular images and re-shot via her computer screen, the images weave a post-narrative of dead ends. There is little information behind this new re-purposing of imagery, but it is sewn together with an intricate eye to formulate a new posture of belief. I find that with everything appropriated via the Internet these days, the hand of the artist is a generally nuanced affair. The creator must re-purpose, but also dedicate a strong editorial and means of aesthetic proficiency to pull together such arcane material into a cohesive body of work. Reimann has done this and done so with an exceptionally tight balance between meta-narrative and book format. It is also of note that APE and Juergen Maelfeyt are consistently producing and designing some of the best photography books around at the moment.
HIGHLY RECOMMENDED.

May 2015
Mirjam Westen on my work at Prospects & Concepts, Art Rotterdam, (NL)

"Ik ben een verhalenverteller. Voor elk verhaal neem ik mijn eigen beeldmateriaal en foto's van anderen als uitgangspunt", zo introduceert Lotte Reimann zich tijdens onze eerste ontmoeting. Sinds haar afstudeerproject Guffaw in 2011 profileert zij zich met foto-installaties en publicaties waarmee zij de toeschouwer een inkijk verschaft in haar wereld. Het gaat vaak om taferelen waarin vrienden, familieleden, bekenden en zijzelf een belangrijke rol vervullen. Haar interesse ligt vooral in een soort van 'white trash' cultuur en in 'ontregelend' of afwijkend gedrag en passies van personages die zich weinig lijken aan te trekken van moreel gezag. Zo toont zij jongeren die aan joyriding doen of toont zij zichzelf trots poserend met een geweer in de hand. In het dubbelportret Mother and Me (2011) zien we haar in de klassieke pose van de familiefoto; ondertussen heeft de volwassen dochter brutaal haar hand op de borst van haar moeder gelegd.

In elk fotoproject wordt een verhaallijn gesuggereerd. De werken worden vaak als een tijdelijke installatie ingericht, zonder vastomlijnde volgorde. Zoals elke foto een gelaagdheid kent, zo kan de toeschouwer in Reimanns presentatie meerdere verhaallijnen ontdekken. Telkens vraag je je af of de onopgesmukte scènes die zij ons laat zien bij toeval zijn gefotografeerd of in scène zijn gezet. Vond, dat wat we denken te zien, werkelijk in haar nabijheid plaats? Welke zijn door Reimann gemaakt en welke 'leende' zij van anderen? Wat is feit, wat is fictie? Ook al schuurt haar werk langs deze kwesties, uiteindelijk gaat het haar om de vraag hoe wij naar ons zelf kijken. In haar woorden: "hoe wij ons identificeren met én vertonen via beelden, in privésituaties en in de internetopenbaarheid."

Voor haar project Bis morgen im Nassen (2014) zocht zij contact met de man die jarenlang foto's van zichzelf in natte kleren op internet plaatste. Hij maakt deel uit van een 'wetlook' subcultuur. Uit de publicatie blijkt hoe Reimann zich letterlijk onderdompelde in de wereld van deze Christian. Hij beleeft (al dan niet seksueel)plezier door met kleding aan te zwemmen en te douchen en legt lange afstanden af om dat samen te doen met mensen met dezelfde passie (vooral mannen). Op de foto's zien we hoe de kleding aan het lichaam kleeft en deels de vorm van het dragende lichaam onthult. In het gelijknamige boek publiceerde Reimann foto's en dagboekachtige notities over haar intrede in deze subcultuur. De foto's lijken op snapshots en zijn wellicht afkomstig van Christian. Reimann is gefascineerd door amateurfotografie, vooral die internetfoto's waarop mensen zich 'niet beter voordoen dan ze zijn' en kwetsbaar voor de blik van de buitenstaander presenteren.

De fotoserie Jaunt bestaat uit een reeks naaktportretten. Reimann speelde leentjebuur bij ene Mr. en Mrs.T die al jarenlang hun onopgesmukte naaktportretten met de wereld delen via internet. Zo zien we een vrouw naakt op bed, een man naakt in de auto, een stel naakt zonnend… Reimann construeerde met hun foto's een narratief dat zich laat lezen als een
reeks erotische ontmoetingen in een banale dagelijksheid; een serie die haaks staat op de gebruikelijke lustbeelden van de pornografie. Foto's van de in haar ogen ontbrekende taferelen werden door haar toegevoegd. Wij worden opnieuw in het ongewisse gelaten over de herkomst van elke foto. De gehele serie roept de vraag op wiens erotische leven nu wordt uitgestald en dat is meteen wat deze serie zo spannend maakt. Het gaat niet alleen om de exposure van anonieme internetpersonages maar vooral om een beeld narratief waarin de projecties en fantasieën van de kunstenares samengebundeld worden.

De serie Reflections is geïnspireerd op een internet 'hype': 'reflectoporn'. Bij toeval stootte Reimann op een foto van een glimmend object dat te koop werd geboden op EBay. In het glanzende oppervlak van het ding bleek de aanbieder zichzelf in naakte hoedanigheid vereeuwigd te hebben. Was dit een nieuwe fetisjtrend, een nieuwe vorm van exhibitionisme of slechts toeval? De kunstenares zocht tevergeefs naar internetplatforms en sites om er meer over te weten te komen. Zij besloot een reeks foto's van haar eigen naaktreflecties in bijvoorbeeld een autospiegel, een televisiescherm en een motoronderdeel op internet te plaatsen in de hoop op een reactie. Er kwam één bericht. eBay liet weten dat haar account geblokkeerd was.
Reimanns fotoprojecten zijn meer dan een weergave van een bepaalde wereld. Zij creëert nieuwe werelden.

January 2015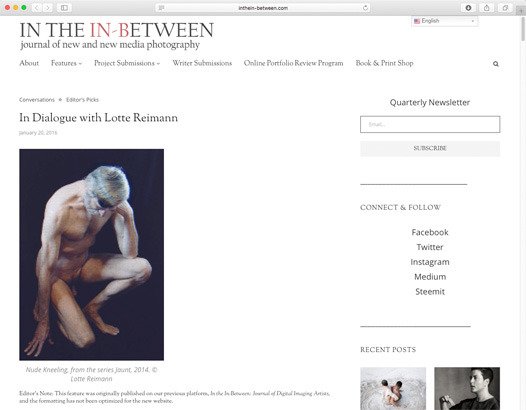 Interview with Gregory Eddi Jones at In the In-Between, (US)
Jan'16
Belinda Grace Gardener, Opening speech at Galerie der HFBK, Hamburg, (D)

Spiegelungen brechen sich auf Chromglanz oder Bildschirmen, auf dem glitzernden Gehäuse einer Gitarre, auf dem schimmernden Helm eines Motorradfahrers. Jene, die dort kurz aufblitzen, bleiben ebenso anonym wie die Personen hinter der Kamera. Es sind vermittelte Bilder, die alles zeigen und nichts. Nackte Haut, Körperteile, ein weiblicher Akt im Seitenspiegel, von vorgehaltenem Tuch halb verdeckt. Das Printmuster lässt an Blumenwiese denken. Verdeckte Ermittlung. Daher weht der Wind. Lotte Reimann ist auf der Fährte, Urheberin und Betrachterin, Außenblick und Innenansicht, Mitwirkende und Bestandsaufnehmerin, alles in Einem.
Bilder von Bildern. Spiegelungen von Spiegelungen.
Lotte Reimann sammelt an Stellen, an denen es von Bildern wimmelt. Sie wirft ihre Netze in die Netze der Bilder aus. Vernetzungen bringen Seien hervor, serielles Tun, Abseitiges, Indirektes, Um-die-Ecke-Herum-Geschautes. Menschen hinter Masken, Frau mit Gewehr, Autos ohne Menschen, Spuren ohne Auto, Nackte mit Gießkanne und auf Kühlerhaube.
Angekleidete im Nassen steckend, vor See, vor Pool, die Garderobe durchtränkt, die Jeans schwer, das Hemd feucht, die Laune leuchtend, das Lachen echt. So echt es geht.
Take a walk on the wild side, on the wet side, on the wild side.
Take a ride. Take a slide. Take a walking the camera light.
Die Spiegel flirren, die Wasser warten still und tief.
Christian springt, Christian und Lotte, partners in crime.
Wie fühlt sich das an, wenn die Klamotten klamm und
vollgesogen am Körper kleben. Sag es mir, ich zeig es dir.
Hineintauchen in die Bilder, ins Wasser, in die Leidenschaften, teilen oder auch nicht teilen, mögen oder auch nicht mögen, Daumen rauf, Daumen runter, oder zwei Finger zum Peace-Zeichen ausfahren wie Christian, oder was er sonst für Zeichen macht.
Was sind das für Passionen. Ausschau halten, beobachten, mitmachen, dabei sein, draußen sein. Spiegelungen im See, die Oberfläche schimmert. Blaue Grotte, magische Lichter, unsichtbare Quelle. Lotte Reimann als Künstlerin, als Wasserforscherin, als Reflexionserkunderin, als Knarrenhalterin, als Teil einer Geschichte, als Actrice im eigenen Bühnengeschehen, und in dem der anderen, auf Staffagenstoff vor Vorhang balancierend, im weiten nahen Raum der Bilder verschwindend.
Lotte Reimann sammelt Bilder, bildet Sammlungen ab. Sammeln bildet, Bildung sammelt. Hanne Darboten spricht so. Raum-Zeit, Zeit-Raum. Lotte Reimann sammelt nicht nur, sie schreibt auch, Briefe zu Bildern, Bildnotizen, Randnotizen, Danksagungen.
Persönliches zu Persönlichem, Persönliches zu Unpersönlichem, Unpersönliches zu Persönlichem, bündelt Bilder zu Büchern, notiert, hält fest, gibt frei.
Das Fremde im Eigenen finden. Das Eigene im Fremden entdecken. Das Fremde im Fremden erkennen. Das Eigene im Eigenen, das Ferne im Fernen, das Nahe im Fernen, das Ferne im Nahen. Second-Hand-Blicke, First-Hand-Sichtungen, alles aus zweiter Hand, alles aus einer Hand. Das Eine mit dem Anderen, das Andere mit dem Einen zusammenbringen. Sinn stiften. Fäden knüpfen. Bekanntschaften schließen. Wahlverwandtschaften eingehen. Sich einschmuggeln, sich rausziehen. Nochmal hinschauen. Was anderes sehen, weitergehen.
Es könnte so oder auch ganz anders sein.
Man könnte oder könnte auch nicht dabei gewesen sein.
Es könnten oder könnten auch nicht die eigenen Bilder sein.
Es könnten oder könnten auch nicht die Bilder von Anderen sein.
Es könnten oder könnten auch nicht fremde, namenlose, frei schwebende, frei verfügbare, frei erfundene Bilder sein.
Es könnten oder könnten auch nicht Bilder von Bildern von Bildern, oder Bilder über Bildern sein.
Es könnte oder könnte auch nicht so oder ganz anders sein.
Dies könnte oder könnte auch nicht eine Rede sein.
Dies könnte Eine von Vielen sein.
Es könnte oder könnte auch nicht. So könnte es sein.
December 2014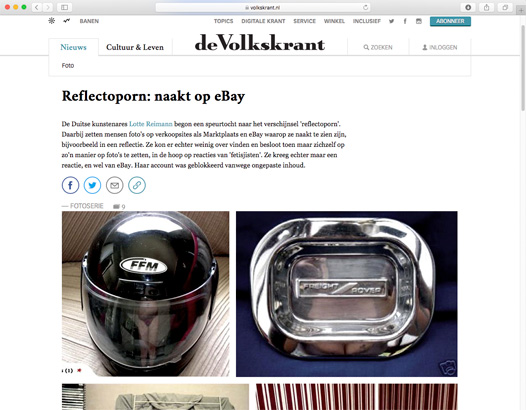 "Reflections - an unfinished collection" in the Volkskrant, Amsterdam (NL)
Dec'14

ONLINE PRESS


Frieze online, review by Laurie Cluitmans, 2017
In the In-Between, interview by Gregory Eddi Jones, 2016
Kiosk of democracy, feature, 2016
New Dawn, featuring Drapery Studies, 2015
Photo-Eye, review by John Phelan, 2015
Vice Nederlands, feature "Jaunt", 2015
Ponytale, interview on "Jaunt", 2015
Dry Magazine, feature "Reflections", 2015
American Suburb X, book review "Jaunt", 2015
Dazed digital, book review "Jaunt", 2015
Vice Netherlands, feature "Bis morgen im Nassen", 2015
Self publish be happy, feature "Jaunt", 2015
i-d Vice, review "Jaunt", 2015
Trendbeheer, review "Reflections", 2015
Ongekunsteld, rieview "Reflections", 2015
Volkskrant, feature "Reflections", 2014
Subbacultcha, feature "Bis morgen im Nassen", 2014
Page, review + interview "Bis morgen im Nassen", 2014
Kunstforum, book feature "Bis morgen im Nassen", 2014
Self publish be happy, book feature "Guffaw", 2014
Gallerytalk, review "Bis morgen im Nassen", 2013
HNA, review "Colts and Fillies", 2012
Trendbeheer, review "Guffaw", 2011